Welcome to Computer Science Homepage
Biola University's Computer Science program provides students with an understanding of the theory and practice of contemporary electronic digital computing, experience in theoretically grounded problem solving based on an analysis-design-implementation paradigm, and a holistic integration of faith and learning preparing students to embark upon successful careers through which they can participate in reaching the world for Jesus Christ through service in secular or faith-based organizations.
Brian Hall ('96), a computer science alumnus, was recently awarded a Scientific and Technical Achievement Academy Award for his work in computer graphics software used in films such as The Amazing Spider-Man and Oz the Great and Powerful . See an interview of Brian on Biola News.
Computer Science employment trends: Computer Science (CS) related jobs are among the highest paid, highest satisfaction jobs of the projected highest growth jobs. See more about computer science job opportunities and careers.
---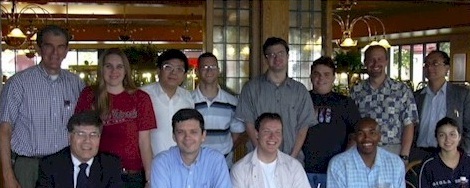 Contact Dr. Lin for more details about the computer science program:
Congratulations to our graduates (May 2016)
Patrick Bayers
Young Cho
Tyler Harris
Kellian Hunt
David Ko
Brayden Stewart
Daniel Vaughan
Pin-Shan Yuan